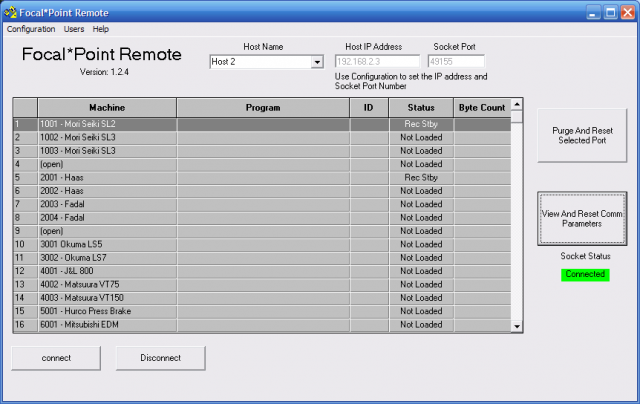 Focal*Point Remote is a utility that provides remote access to view and edit Focal*Point's communications parameters. This is especially useful when configuring, adding, and moving machines in the DNC system. Focal*Point Remote works by opening a socket connection to the main Focal*Point host computer. The program then becomes a shop-floor tool to verify communications activity, reset ports, and also make changes to the RS-232 parameters and COMM options.  As an extra measure,  individual user-rights allow you to restrict access to simple viewing and port resets when circumstances require that functionality only.
When used in conjunction with a Focal*Point Administration seat, the remote user will also have access to Focal*Point's Received File Administrator (RFA), the DNC Library, the NC Editor, the File Compare utility,  and a host of other functions.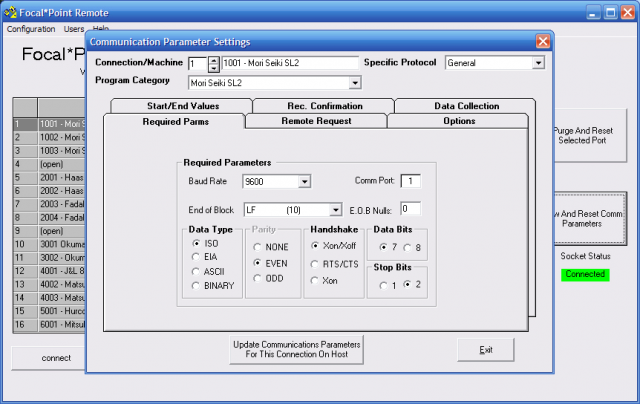 Using Focal*Point Remote is easy. For example, when modifying a COMM option the user is presented with the same tabbed windows as seen on the main DNC host computer. This eliminates the need to learn yet another software application. What's more, Focal*Point Remote comes with same 10-Day trial license as Focal*Point and Focal*Point Administrator so these tools are available free-of-charge as you setup and test your DNC network.
To get started simply record the IP address and socket number displayed in the Settings > Configuration menu on the Focal*Point host computer. Next, enter these settings in the Focal*Point Remote configuration menu. Provided that both PCs are connected to the same local network, all that is needed is to click on the Connect button and within moments you will see the main screen of the Focal*Point host computer.
To download the Focal*Point Remote application click the link below.
What's New in Version 1.2.8
Maintains the view of a machine's status after a port reset or communications update is performed. Previously the machine grid would revert to displaying the first 16 machines as viewed at start up.  This action prevented remote verification of port resets on systems with more than 16 machines.
Since port resets and RS-232 communications parameters are not valid for FTP and network shares (Timer Folders), the program now provides instant feed-back regarding these connection types.
The default socket port numbers have been changed so as not to conflict with Windows 7 ports.
Download    Focal*Point Remote -- 8.6 MB